Satbayev University signed a memorandum of cooperation with "Baiterek" holding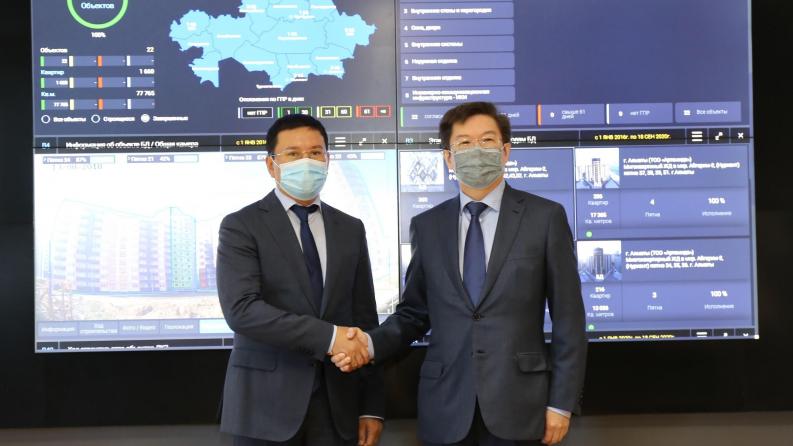 On September 18, Almaty hosted an official ceremony of signing a memorandum of cooperation between National managing holding "Baiterek" joint-stock company and Satbayev University. Satbayev University Rector Iskander Beyssembetov and Chairman of JSC «NMH» Baiterek" Board Aidar Arifkhanov signed the memorandum.
At the meeting, Vladislav Kim, Managing Director for digital technologies at Satbayev University, presented "Nurly Zher situation center" information system's work, which is based on artificial intelligence technology. Digital engineering and technology Institute together with "Baiterek" implemented this project within the framework of "Nurly Zher" program in order to monitor the housing construction progress in Kazakhstan regions.
The parties discussed the future collaboration and "Marketplace of building materials" project, which will be implemented on "Situation center" basis in the near future. The project concept is to unite customers and suppliers of construction materials on one platform and carry out a system of long-term contracts at fixed prices.
"Signing the memorandum and working on joint projects will help our companies exchange experience and further develop the integration of science and production. I am sure that our joint work has a great potential. As part of our cooperation, we see prospects for further improving the quality of implementing the state IT projects," commented Iskander Beyssembetov.
After signing the memorandum, the participants visited the fablab production laboratory, where they were acquainted with the capabilities of Satbayev University.
"Baiterek" National managing holding finances projects that meet national priorities in the economy. One of the directions is developing digital monitoring and management of housing construction and construction business processes automation. The technical partner of the program since 2018 is Digital engineering and technology Institute, specializing in software for optimizing the manufacturing sector processes.