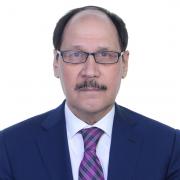 Askar Syzdykov
Director
Director of the Institute of Geology and oil and gas engineering named after K. Turysov, Professor Satbayev University, candidate technical of science (Senior Researcher), Dr. Phd, academician of the International Academy of Informatization. scientific advisor of grant and industry research projects.
Qualification - mining engineer.
A. Kh. Syzdykov began his professional and pedagogical activity in 1980 as an engineer in the industry laboratory "Effective Methods of Exploratory Drilling" at KazPTI named after V.I. Lenin. Until 1984, he worked as the Junior Researcher and Senior Researcher of laboratory. From 1984 to 1992 he worked as a teacher, senior lecturer, associate professor of the department "Technology and Technique for Drilling Wells".
From 1993 to 2017 he worked in various domestic and foreign production and management companies of the geological and oil and gas industries of the republic. He has held various executive and managerial positions in the system of the National Company KazMunayGas (KazTransGas JSC - managing director for geology and subsoil use, Amangeldy Gas LLP - general director, KMG Karachaganak LLP - director of the development department, Scientific Research Institute Kaspiimunaigaz LLP - CEO's councelor).
Since January 2018, he working at Satbayev University as Director of the Institute of Geology and oil and gas engineering named after K. Turysov, professor at the Department of Petroleum Engineering.
Additional Information:
Director of the international center for analysis and development of deposits Satbayev University.
Geology and Oil-gas Business Institute named after K. Turyssov
The Institute trains specialists in the field of earth science (geologists, geophysicists, oilmen and hydrogeologists) and in the field of chemical engineering, engineering biotechnology, environmental specialists in the field of environmental protection for mining and geological, chemical, petrochemical, biotechnological, energy, mining and metallurgical, oil production and oil refining, oil-gas chemical industries. Graduates become specialists in ore and petroleum geology, geophysics, hydrogeology, drilling, etc.
The Institute has a powerful material and technical, scientific-educational and laboratory base, equipped with modern innovative infrastructures and all the necessary innovative technologies for use in the educational process. There is a unique mineralogical center for the study of the material composition at micro level and the richest mineralogical museum. All educational programs are reviewed by employers, professional associations and alumni.
At the institute, the educational process is combined with research work, where students have the opportunity to participate in funded research projects. The teaching staff, students, undergraduates and doctoral students are actively involved in the funded research projects of the institute. Institute has a Council of Young Scientists.
Institute is actively involved in scientific work. Forums are organized and held at the international level, where specialists from leading oil and geological exploration and mining companies of the regional and international level are invited, scientific and practical conferences, intellectual games, professional trainings.
Institute maintains close ties with the institutes of the USA, Europe, Russia, etc. Students have the opportunity to undergo practical training, scientific internships and study under the system of double-diploma education.
Learn More
Contacts
Rinat Akpanbaev
Deputy Director
r.akpanbayev@satbayev.111
Assyl Makyzhanova
Deputy Director
a.makyzhanova@satbayev.111
Zaira Mataeva
Deputy Director