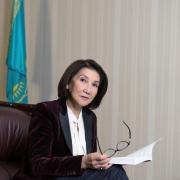 Uskenbayeva Raissa Kabievna
Director
Kazakh National Research Technical University named after K.I.Satpaev 2021 Director of the Institute of Automation and Information Technologies
International University of Information Technologies, Almaty 2019 - 2021 Rector
2012 - 2019 Vice-Rector for Academic Affairs and Science
Kazakhstan Engineering and Technological University 2018 Rector
Kazakh National Technical University 2003 - 2012 Head of Department of Software Systems and Networks of the Institute of Information Technologies, Doctor of Technical Sciences, prof.
1999 - 2003 Doctorate KazNTU named after K.I.Satpaeva
1978 - 1999 Associate Professor, Senior Lecturer, Lecturer
Alma-Ata Special. Design Bureau of the USSR MPSS 1975 - 1978 Engineer-mathematician
Institute of Automation and Information Technologies
Institute trains IT specialists and professionals in the field of robotics for all sectors of the economy in the following areas: computer science, cybernetics, mathematics and information security.
Institute is recognized as a major scientific and educational center, one of the leading institutes at Satbayev University. Cybernetics and information technologies are priority areas of science and technology development and are supported by government programs. Graduates work in key positions at the largest manufacturing enterprises that occupy leading places in the country's economy, or manage their own companies.
The beginning of the Institute can be considered 1962, when Automation and Computer Engineering Faculty was opened on the basis of "Automation and Tele-mechanics" and "Computer Engineering" departments.
Institute develops educational programs based on fundamental knowledge and modern skills in conjunction with current information and communication technologies. Institute is also developing multilingual programs to improve the level of teacher training in Cambridge (UK). To improve the level of textbooks, Institute's teachers visit technical educational institutions in Portugal and France. Traditional and modern teaching technologies are applied in the classrooms as well.
Learn More
Contacts
Kasymova Aizhan
Deputy Director
Kalpeyeva Zhuldyz
Deputy Director
Sagynuly Sanzhar
Deputy Director
Kassymbekov Adlet
Deputy Director
a.kassymbekov@satbayev.111
Academic support issues for "Applied mechanics and engineering graphics department" students
Academic support issues for "Cybersecurity, information processing and storage department" students
Academic support issues for "Software engineering department" students
Academic support issues for "Scientific and educational center for mathematics and cybernetics" students
Non-academic support issues