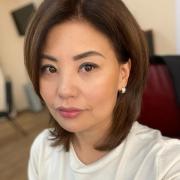 Amralinova Bakytzhan
Director
E. Turkebayev Institute for Project Management
Institute trains in-demand professionals in project management, logistics and supply chain management sphere, business analysts, managers and executive directors capable of managing the complicated projects in a variety of industries.
Experienced teachers and certified managers with extensive practical experience will prepare you for practical work and effective management of complex projects in production's technical areas, as well as teach you the ways to work with deadlines and budget on real cases from various areas of production.
Institute has been operating since 1991 and during the mentioned time has become the alma mater of many outstanding scientists, public figures and talented leaders of the Republic of Kazakhstan. Institute provides its students with many opportunities, both in the field of international business and logistics, as well as in Kazakhstani finance and production sphere.
Institute actively collaborates with overseas higher educational institutions, exchanging knowledge and research experience, inviting the foreign lecturers, organizing the courses and internships. Partners include Silesian University of Technology (Katowice, Poland), Mining and Metallurgical Academy named after Stanislav Staszic (Krakow, Poland), Lobachevski University (Nizhny Novgorod, Russia), Royal University of Technology (Stockholm, Sweden), Brunel University (London, UK), Osnabruck University of Applied Sciences (Germany), Otto von Guericke University of Magdeburg (Germany), Budapest Metropolitan University (Hungary) and others.
Within the framework of double-degree education, Institute provides ample opportunities for people interested in foreign professional experience and international relations. Currently, Institute offers a dual-diploma program jointly with Silesian University of Technology in "Logistics" specialty and Lobachevski University in "Business Development Management" specialty. Negotiations are underway to open the other dual-diploma programs.
Institute employs foreign professors teaching the disciplines in English, and practitioners with extensive practical experience in logistics and transportation organization field that is confirmed by international certificates. Bachelor's "Transport Services" program is the only program at University that has passed international professional accreditation in European Logistics Association (Brussels, Belgium), which gives the Institute the right to issue an international professional certificate CeLog to graduates.
Among the permanent partners of Institute there are Union of Project Managers of the Republic of Kazakhstan, National Chamber of Entrepreneurs "Atameken", Union of Transport Workers of Kazakhstan "KazLogistics", Research Institute of Transport and Communication, International Center for Cross-Border Cooperation "Khorgos-Eastern Gate", as well as "Zhebe Logistics", "Deutsche Bahn Engineering&Consulting DB Cargo" companies and Central Asian Institute for Research and Development (CAIDS).
Institute trains senior management specialists with unique skills based on specially elaborated training programs. Thus, "Executive MBA" program is designed for experienced managers and top managers with extensive managerial experience, and MBA program in mining and metallurgical complex trains the graduates to work directly at production.
In addition to the specialized departments, Institute has departments of "General Education disciplines", "Foreign Languages", "Kazakh and Russian languages" and "Physical Culture" that provide University students with a broad outlook and comprehensive university training.
management@satbayev.university
Learn More
Contacts
Akerke Kulbayeva
Chief Manager
Shyndauyl Nugumanov
Deputy Director
Dinara Satybaldieva
Deputy Director
d.satybaldiyeva@satbayev.111
Amralinova Bakytzhan Bazarbekovna
Director
b.amralinova@satbayev.111