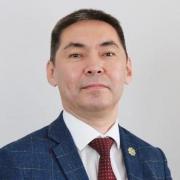 Kanay Rysbekov
Director
Head of Department, Candidate of Technical Sciences, Associate Professor
Mining engineer-surveyor, teacher with experience of more than 20 years. He worked as the director of the Mining and Metallurgical Institute, the scientific director of a number of projects. Academician of the Academy of Mining Sciences of the Russian Federation, academician of the International Academy of Informatization, corresponding member of the National Mining Academy of Kazakhstan, corresponding member of the International Academy of Ecology and Life Safety of the Russian Federation.
In different years, he passed scientific and pedagogical internships NUS (Singapore), Hong Kong, NU (Nazarbayev University), China University of Mining and technology (Beijing).
The author of more than 130 scientific papers, including 15 Scopus and 7 Web of science indexed in a database, 4 textbooks, 7 monographs, 8 study guides, co-authored with Kazakh-Russian and Russian-Kazakh terminological dictionaries "Mining and Metallurgy", "Environmental Encyclopedia" and terminological scientific and industry dictionary "Geography and geodesy", industry instructions "Unified rules for the protection of mineral resources in the development of solid minerals."
He worked as a member of the expert council of the Committee for control in the field of education and science of the Ministry of Education and Science of the Republic of Kazakhstan.
Member of the sections for the expert and analytical assessment of works submitted for the State Prize of the Republic of Kazakhstan in the field of science and technology named after al-Farabi (Section of Earth Sciences, Engineering and Metallurgy) Order No. 122 of 03/20/2019. Freelance expert on professional standards at the ASSOCIATION OF LEGAL ENTITIES "REPUBLICAN ASSOCIATION OF MINING AND METALLURGICAL ENTERPRISES" (AMME).
Mining and Metallurgical Institute named after O.A. Baikonurov
Institute trains specialists with knowledge of modern methods and techniques in the field of mining and metallurgical engineering, mineral extraction, geodesy, surveying, land management, cadastre, materials science and technology of new materials. Training is conducted on the basis of a foreign approach, the best world practices and recent scientific achievements.
The Institute was founded in 1934 as Kazakh mining and metallurgical institute and Institute's further history is inextricably linked with the history of KazMMI-KazPTI-KazNTU development. In 2001, Mining and Metallurgical faculties were merged into Mining Institute and Metallurgical Institute, and in 2003, there were formed Mining Institute and Institute of Metallurgy and Printing. In 2011, O. A. Baikonurov Mining and Metallurgical Institute (MMI) was established.
During XX and within the twenty years of XXI century, mining and metallurgical faculties of the higher educational institution provided the mining and metallurgical industry of Kazakhstan with the best personnel. Among Institute graduates are laureates of State Awards of the Republic of Kazakhstan, Halyk Kaharmany, Kazakstannyn Enbek yeri, ministers, deputies of Parliament Senate and Parliament Majilis, akims, presidents of mining companies.
Students take internship in production companies with whom there are cooperation agreements. Institute has strong links with production that allows not only to teach students the skills needed directly at the future workplace but also to implement dual education and research projects owing to the current production problems are solved. Institute's main strategic partners are "GeoStroyInvest" and "Kazakhmys" corporations, JSC NNC "Kazatomprom", "Kazzinc", "Kazferrostal", "Kazakhvzryvprom", Polymer Materials and Technologies Institute , "Globopak, "Kazchrome", "KazMinerals", "Aluminum of Kazakhstan", "Kazphosphate" "ERG", "Interrin", "Leika Geosystems Kazakhstan", "Almatymetrokurylys."
Learn More
Contacts
s.myrzakhmetov@satbayev.111
Kenesbay Aitenov
Deputy Director
Tilepbay Kuandykov
Deputy Director
Toregali Nargiza Ablaikyzy
Rysbekov Kanay Bakhytovich
Director