Students of the Department of Architecture became laureates of the scientific conference «Best Young Scientists-2021»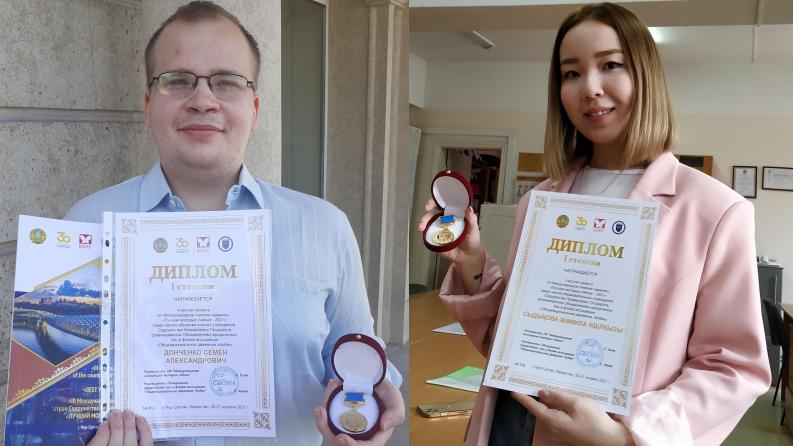 On April 20-21, 2021, the International Scientific and Practical Conference of the III International Book Publication of the Commonwealth of Independent States «Best Young Scientists-2021» was held in Nur-Sultan. It is a unique project aimed at popularizing the science and personal achievements of young scientists of the CIS. It is organized by the International Association of Young Scientists with the support of the Association of Legal Entities in the form of the association «National Movement «Bobek».
This project was attended by young and talented people who are passionate about scientific developments on various issues from the Republic of Belarus, the Russian Federation, the Republic of Kazakhstan, the Republic of Uzbekistan, the Republic of Tajikistan, the Republic of Kyrgyzstan in the framework of international cooperation and further integration of science.
The scientific research presented by the students of the «Architecture» department of the Institute of Architecture and Construction named after T.K. Bassenov, Satbayev University was highly appreciated and awarded with diplomas of the 1st Degree and medals:
Semyon Donchenko (2nd-year master's student, educational program 7M07302 – «Architecture and Urban Planning»), research on the topic «The development of historically formed architectural forms on the example of the city of Almaty» (supervisor Professor Samoilov K.I.)
Jamilya Sydykova (4th-year student, specialty 5B042000 – «Architecture), research on the topic «The influence of Islam on world architecture» (supervisor Sidorenko L.V.)
The final results of the work will be published in the conference proceedings for 2021.
We congratulate you and wish you new achievements in the scientific field!