Teaching English in the Era of Digitalization conference was held at Satbayev University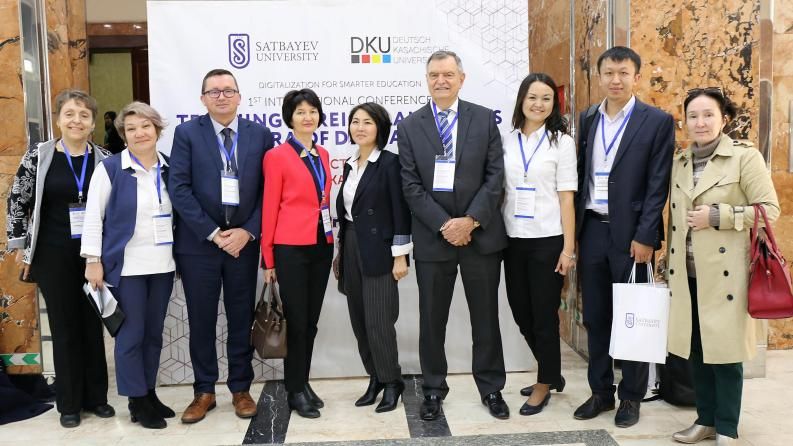 The first international conference Teaching English in the Era of Digitalization, organized jointly by Satbayev University and the Kazakh- German University, was held on October 24-25, 2019.
The objectives of the conference are to share the accumulated experience, discuss challenges and find constructive solutions in teaching foreign languages in the era of digitalization, strengthen cooperation and identify potential areas for joint research.
The main directions of the conference:
Digitalizing FL teaching in Kazakhstan: challenges and goals
Theories and practice of language acquisition in digital environment
Exploring a new role for: teaching digital natives
The digital divide in classrooms: vs.
Pitfalls of digital in FL acquisition
Contribution of digital technologies to autonomous language learning
Technologies in a flipped classroom
Digital opportunities for foreign language teacher development
The main partners of the conference are publishing house Oxford University Press, international language center InterPress, Swiss consulting company Software One and association of English teachers KazTEA.
The conference was attended by a number of speakers:
Martin Curtis - coach of Oxford University Press and Oxford Academy of Teachers;
Richard Harrison is a British writer, author of many books;
Vasily Serbin - Professor of the Russian Academy of Natural Sciences, Honoured Worker of Science and Technology.
With the advent and intensive development of information and digital technologies, there is a huge need for their application, including in education. Performing this task, the conference Teaching English in the Era of Digitalization became the beginning of the association of experts, scientists and practitioners from the Republic of Kazakhstan and other countries to discuss modern scientific and applied trends in the use of innovative digital technologies in teaching foreign languages.
Read about next year's conference on the official website of the conference satbayev.university/tfl.