The project of students of Satbayev University took the 2nd prize at the international competition "Kazakhstan Smart Space"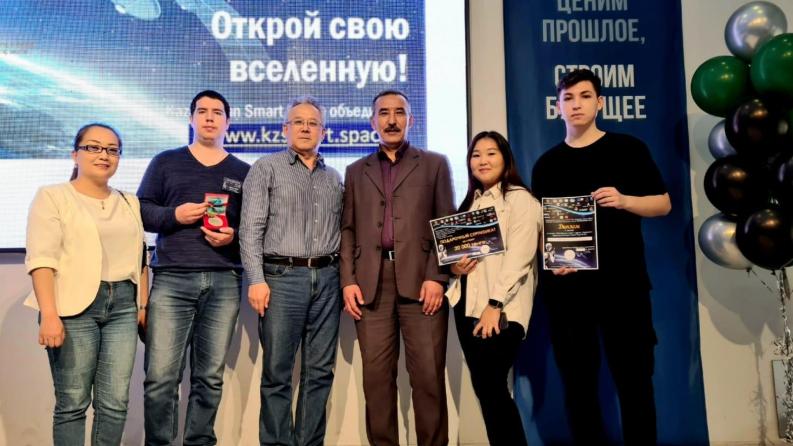 On April 8-9, 2022, the final stage of the 1st International Competition on Space Technologies and Technology "Kazakhstan Smart Space" took place at the Almaty University of Energy and Communications named after G.Daukeev within the framework of the 5th Eurasian Summit of Digital Economy Leaders and awarding of the winners. The contest was dedicated to the 30th anniversary of independence of the Republic of Kazakhstan and the 60th anniversary of the first human space flight.
The competition was attended by project teams consisting of college and university students, students of schools and circles of the system of additional education in Kazakhstan and Russia with their teachers and mentors.
4 projects were submitted for the competition from Satbayev University, among them "Laser communication for nanosatellites" and "Reduction of artificial space debris in near-Earth orbit". The finalists successfully passed all stages of the competition, trainings, master classes, workshops, coaching sessions of the members of the Expert Council and made it to the finals.
As a result of a hard struggle, the project "Laser Communication for nanosatellites" took the 2nd prize, and its authors received the winner's cup. During the work, the winners actively used the capabilities of the joint laboratory of wireless networks, which was opened at Satbayev University by the Kazakh Scientific and Educational network "KazRENA Association".
The project was implemented by Azhar Baymanova, Valery Lisogor, Galimzhan Galimullin and Nurgul Medeuva under the guidance of Kanat Zhunusov, Associate Professor of the Department of Electronics, Telecommunications and Space Technologies, and Sagyndyk Arinov, a co-worker of the KazRENA Association.
The organizers of the competition were the "National Center for Space Research and Technology", the Aerospace Committee of the ICRIAP RK, the company "Eurasian Space Ventures" and the "Kazakhstan Institute". The winners and prize–winners were awarded with diplomas, cash prizes, commemorative prizes, the best teams with cups, all participants with certificates.
Congratulations to all the winners!