A series of master classes by professional project managers took place at Satbayev University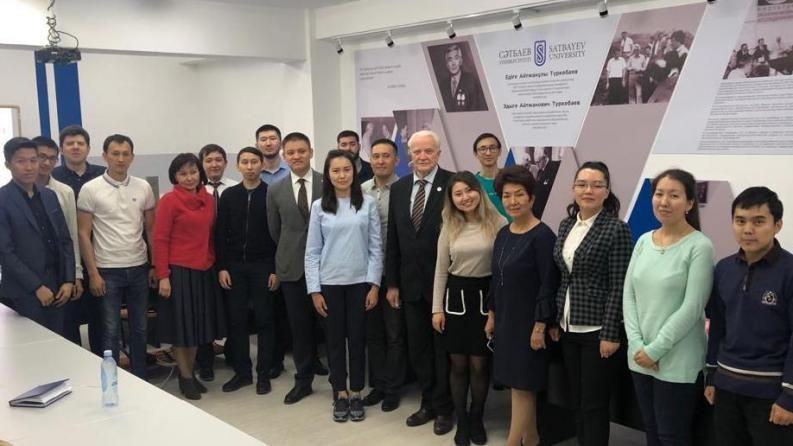 On 4-5 April a series of professional project managers' master classes took place at Satbayev University in Turkebayev's lecture hall. The event was held as part of the anniversary events of the university, namely the 85th anniversary of Satbayev University and the 120th anniversary of Kanysh Imantayevich Satpayev and was organized by the School of Business and Management of the Turkebayev Institute of project management.
A series of master classes was conducted for graduate students, doctoral studies and faculty's teaching and professorial staff. Professionals with a huge practical experience in project management of large companies such as Tengizchevroil, KazTransCom, BankCentreCredit and NPP RK Atameken, shared their knowledge and experience as speakers.
On the first day, the project manager of BankCentreCredit Maksat Abdildaev shared interesting information about flexible project management technologies. He was followed by the Deputy Director for Legal Issues of the Almaty Chamber of Entrepreneurs, Aytuar Koshmambetov, who explained in an accessible way the activities of the NPP Atameken, convenient and useful services for existing and emerging businessmen. The second day of the master classes was opened by Renat Yusupov, project manager at Tengizchevroil, who shared useful tips for future job seekers in international companies. Abay Amanov, Deputy General Director of KazTransCom, made interesting information about the meaning and significance of interaction with stakeholders at all project stages.The bright and lively presentation of the academic secretary, the master student Tolkynay Sadykova, who spoke about innovative teaching methods in foreign universities and participation in projects during her studies, ended the series of master classes.