A tricky cube has appeared at Satbayev University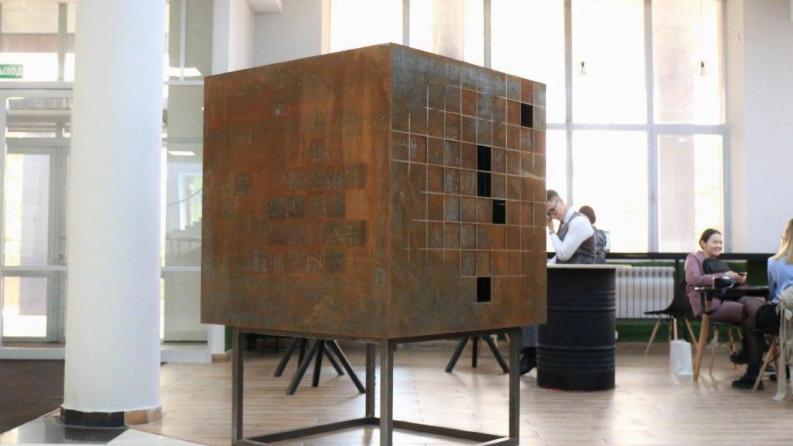 On April 12, "Cubes" appeared at Satbayev University — conceptual designs by Saken Narynov, a famous Kazakh architect, author of the architectural ensemble of Museum-memorial complex of victims of political repression and totalitarianism "ALGIR" (Akmola camp of wives of traitors to Motherland) and ''Dostyk'' Monument of Friendship of Peoples in the capital of Kazakhstan. The master's objects and projects have been displayed at more than 30 exhibitions and contests in Russia, Bulgaria, Turkmenistan, Japan, Germany, France, Peru, Copenhagen and Kazakhstan.
Saken Narynov is a graduate of Satbayev University Architecture Faculty in 1970, when our university was still Kazakh Polytechnic Institute. Saken Zhomartovich always remembered his alma mater; his works for a long time decorated the space of the university before, and today, renewing this tradition, a series of works "six states of the cube" is presented in the university walls. Each of the works in the series explores how the strongest human emotions can be conveyed due to the language of simple abstract forms:
1) "Wearily retarded",
2) "Persistently creative",
3) "Conspiratorially hypocritical",
4) "Decently smooth",
5) "Evil exploding",
6) "Mysteriously magnificent."
As the name implies, all the works are based on a cube with a similar internal structure – a spatial lattice. Exactly the changes in this structure allow us to judge "the mood" of the cube.
In addition to Saken Narynov, Alexander Troshchinsky, Ernest Zhumagazyuly and Vladimir Yaskevich took part in the creation of cubes.
Despite the fact, that installation's theme is contradictory, students' and teachers' reaction to it was positive. At the opening of the exhibition, the mood was positive, and the growth "through thorns to the stars"!