Interuniversity Olympiad in English at Satbayev University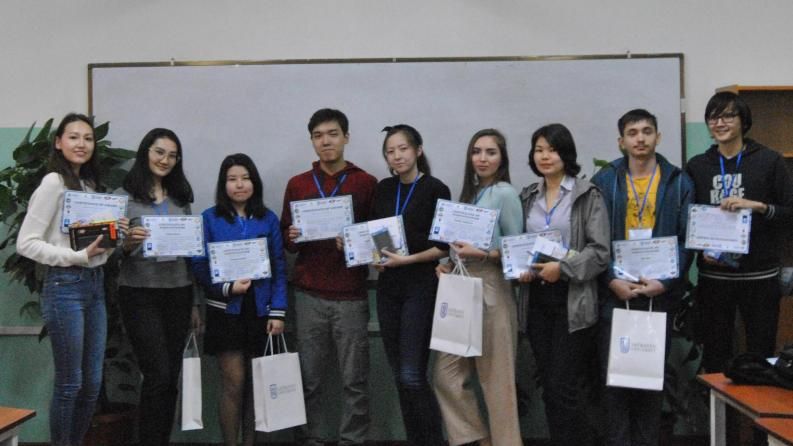 In the framework of the 120th anniversary of Academician K.I. and 85th anniversary of Satbayev University, the English Language Department of Akzhan Mashani Institute of General Education held the annual interuniversity English language Olympiad among students of non-linguistic specialties. The Olympiad consisted of 2 rounds, which took place on April 13 and 20, 2019. Students of all non-linguistic specialties had an opportunity to test their level of English and compete with students from other universities.
Holding the English Language Olympiad among technical universities in Almaty has become a tradition. According to the rules, this competition is conducted by the University, the student of which won it in the previous year. In March last year, the 2nd year student of our university Saule Uvakova of specialty "Geology and Mineral exploration" won this Olympiad.
One hundred and seventeen students participated in the first round of the Olympiad. Students represented Satbayev University, IITU, KazNAU, KazALSR, AUES, ELU named after D.A. Kunayev, KazNU named after Al-Farabi, Kazakh-German University, Kazakh Academy of Sport and Tourism, Kazakh national Medical University named after S. D. Asfendiyarov, Kazakh-Russian Medical University, Kazakh Automobile and Road Academy named after L. B. Goncharov, Kazakh National Academy of Art named after T. K.Zhurgenov, UIB, Narxoz University, Turan University and Caspian University.
According to the terms of the Olympiad, the following 10 students with the highest results took part in the final round: Ilya Zykov, Bakhtiyar Iskakov, Tokzhan Kuandykova, Dana Baimirova, Danagul Amiralina, Erbol Abdykhalil, Alika Tamresheva, Arailym Igibaeva, Zhasulan Kuan and Kamila Gatiyatullina.
According to the results of the second round, the 1st year student of Satbayev University Bakhtiyar Iskakov and the 1st year student of AUES Zhasulan Kuan took the third place. The second place was given to the 1st year student of Satbayev University Togzhan Kuandykova and the 2nd year student of IITU Danagul Amiralina. Finally, the winner of the English language Olympiad was the 2nd year student of IITU Dana Baimirova. The winners of the Olympiad were solemnly awarded with diplomas and valuable prizes. In addition, the other five winners were awarded with certificates and incentive prizes.