Kanay Rysbekov was appointed as Director of Geology, oil and mining institute named after K. Turyssov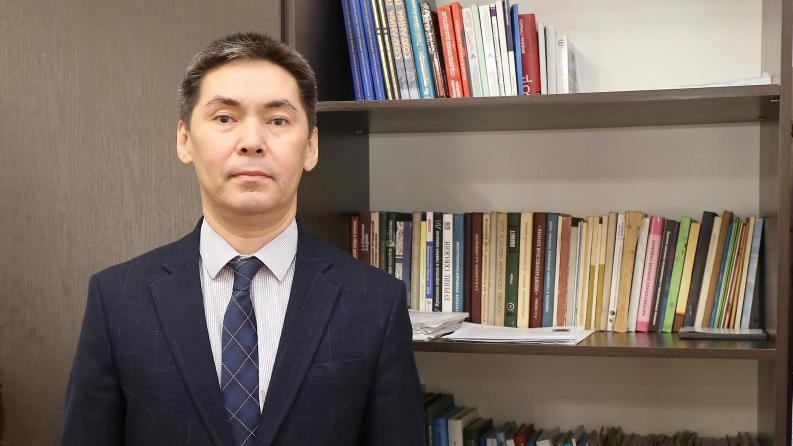 On March 05, there was held a presentation of the new director of K. Turyssov Geology, oil and mining institute Kanay Bakhytovich Rysbekov. The staff of the Institute warmly welcomed the new director, a well-known scientist, Satbayev University Rector's adviser for science, Doctor of technical sciences Bayan Rakishev made a congratulatory speech on behalf of the team, who noted the merits of Kanay Rysbekov and wished him success in his new post.
Kanay Rysbekov is the head of the Mining Department, candidate of technical sciences, associate Professor and teacher with more than 20 years of experience.
He is a mining engineer-surveyor, scientific director of several projects. Besides, he is an academician of RF Academy of mining sciences, academician of International Computerization Academy, academician of National mining Academy of Kazakhstan, member-correspondent of International Academy of ecology and life safety of the Russian Federation.
In different years, K. Rysbekov worked as Director of Mining and metallurgical Institute, a member of the Expert Council of the Committee for control in the education sphere and science RK MES, was the owner of the State scientific grant for young talented scientists.
He is the author of more than 100 scientific papers, 3 textbooks, 3 monographs, and 7 study guides; a member of the sections for expert and analytical evaluation of works submitted for State prize of the Republic of Kazakhstan in the field of science and technology named after al-Farabi. Freelance expert of professional standards at the "Republican Association of Mining and Metallurgical Enterprises".
K. Rysbekov conducts researches in the field of rational and integrated development of mineral resources and environmental problems in mineral deposits advancement.