Satbayev University awarded winners of the contest «Best University Teacher-2020»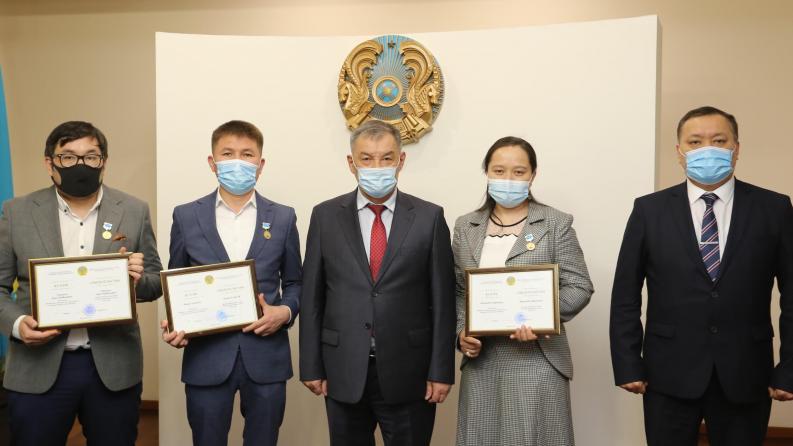 On March 17, 2021, Satbayev University hosted the Best Award Ceremony «Best University Teacher-2020». 150 people from 46 universities in the country won the award, four of them teach at Satbayev University.
Associate Professor of the Institute of Metallurgy and Industrial Engineering Omirserik Baigenzhenov was awarded by the Minister of the Ministry of Education and Science of the Republic of Kazakhstan in Astana as one of the top ten laureates of the contest. Ulantai Nakan, Yryszhan Zhakypbek and Dias Umyshev received honorary awards at Satbayev University from the hands of acting Rector Amandyk Tuleshov.
The award ceremony began with the congratulations of the Minister of MES RK Askhat Aimagambetov, broadcast online. Askhat Kanatovich noted the symbolism of the event taking place in the run-up to the spring holiday Nauryz Meiramy, congratulated the audience on the coming holiday and expressed gratitude to the teachers for their work, thanks to which the work of universities during the period of a pandemic and quarantine restrictions was organized at a good level.
«The challenges of the times must be seen as an opportunity for growth. Today we face the complex challenge of increasing the prestige of the teaching profession and several other important issues that have been identified by the President of the country. I sincerely congratulate all winners of the contest and wish everyone good health, great success in their work and family well-being", said Askhat Aimagambetov.
The contest «Best University Teacher » was organized in 2005 on behalf of the First President – Elbasy Nursultan Nazarbayev. The contest is aimed at encouraging teachers who not only demonstrate good quality of teaching, but they are also active and effective researchers. Winners receive certificates and medals «The Best University Teacher-2020», as well as a grant that enables them to upgrade their skills and to carry out scientific projects, and have Internships at the world's leading universities. In 2020, the amount of the grant was 5,834,000 tenge.