Satbayev University has launched the first Esports Student League in Kazakhstan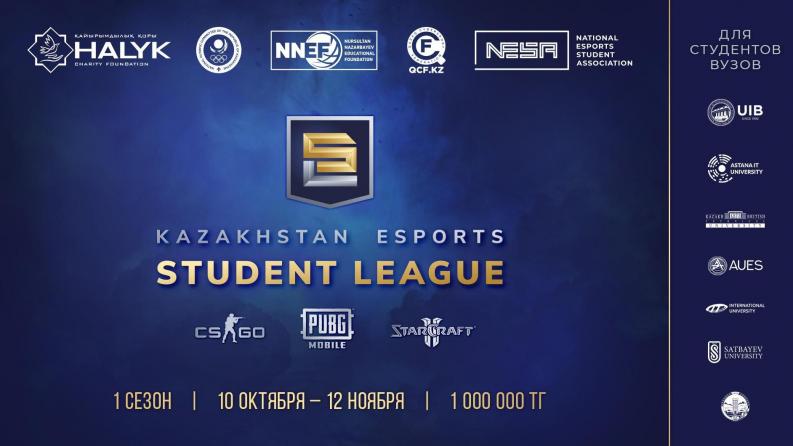 The "Halyk" Charity Fund together with the National Olympic Committee of the Republic of Kazakhstan and Nursultan Nazarbayev Educational Foundation, assisted by Qazaq Cybersport Federation, have announced the launch of the National Esports Student Association, a national project on student eSports.
Kazakhstan Esports Student League Association was created to promote cybersports among the country's younger generation. Creating such a league is a big step in the development of cybersports in Kazakhstan: the best universities of the country will gather their national teams in Esports disciplines for the first time.
The initiative of the "Halyk" Charity Fund and the National Olympic Committee of Kazakhstan in the project that unites the largest and most prestigious universities of the country is aimed at promoting Olympic values among students and creates conditions for sports culture popularization. Kazakhstan Esports Student League will not just give a system-forming boost to the growth of cyber sports community in Kazakhstan, but will also open up many young talents.
Participation of Qazaq Cybersport Federation, recognized by the National Olympic Committee and accredited by the Ministry of Culture and Sports of the Republic of Kazakhstan, will open the way for student teams to the world of big cyber sports and ensure a high level of tournament organization. Supporting the rapidly growing popularity of the youth platform, the partners of Kazakhstan Esports Student League expect to increase the interest of the student audience in the Olympic Games and sports in general, as well as active involvement in sports events of the younger generation.
The student cyber sports league will be held on an ongoing basis and consists of four seasons, in each of which the game disciplines will change.
Teams of seven universities will attend the first season of the league: UIB, Astana IT University, KBTU, AUES, IITU, Satbayev University and KazNU, which will be formed based on the results of internal competitions. Starting from the second season of the tournament, all other universities will have access to join the National Esports Student Association.
The first season of the Student League will be held in disciplines PUBG Mobile, CS: GO and StarCraft II from October 10 to November 12, 2020. Registration for the tournaments opens on October 02, 2020.
Registration procedure:
1) Register or register your team at Pinger.
2) Notify the representatives of the university about the creation of the team (see information on the telegram channel of SatbayevUniversity League).
3) The representative of the university sends the information to the League and confirms registration.
Participate in Kazakhstan Esports Student League! The prize fund is 1,000,000 tenge!