Satbayev University has opened a higher education for Motherland's defenders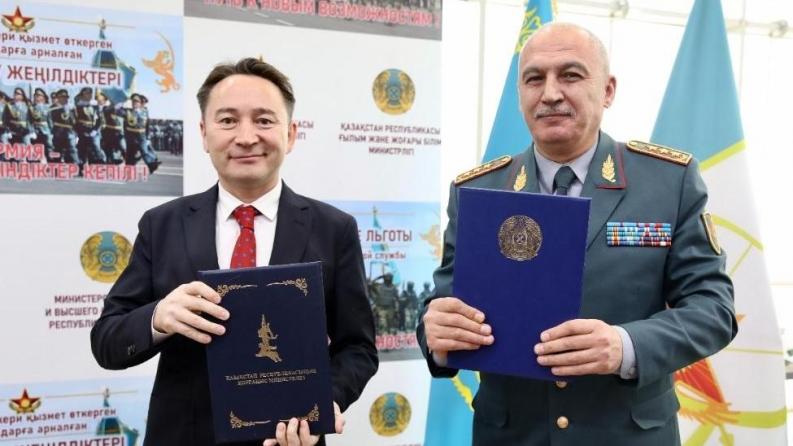 On October 25, Satbayev University's Rector Meiram Begentayev signed a memorandum on cooperation with RK Defense Ministry in the field of provision of free higher education for those who have completed military service.
Defense Minister Ruslan Zhaksylykov signed the memoranda with the support of Minister of Science and Higher Education Sayassat Nurbek. Under the new program, 3,000 grants for higher education are provided to military personnel completing the military service immediately after graduation.
Young people who have successfully paid their debt to Motherland will apply for grants from Satbayev University's Academic Council for the most popular educational programs that guarantee employment after higher education. At the same time, applicants who have served in the Army can enter the university without UNT.
"The signed agreements are one of the mechanisms related to servicemen socialization after the army. Firstly, those who have shown their best in the service and were carefully selected will come to universities. Secondly, young people who were trained in the army will appear in educational institutions. Strong, hardy, disciplined guys will become an example of courage and independence for students in building a personal career," Ruslan Zhaksylykov noted.
In order to eliminate corruption risks in selecting the soldiers sent free training, Ministry decided to develop a digital platform to determine the rating of each service member and assign them among universities.
The platform will determine the individual rating of each soldier based on the results of combat's assessment, physical and special training, and the rating will also include the results of the psychological state of military personnel and service in the outfit. The data will be accumulated in Defense Ministry, without the possibility of substitution. The program will be effective from 2023.