Satbayev University joins forces with Schlumberger in implementing R&D projects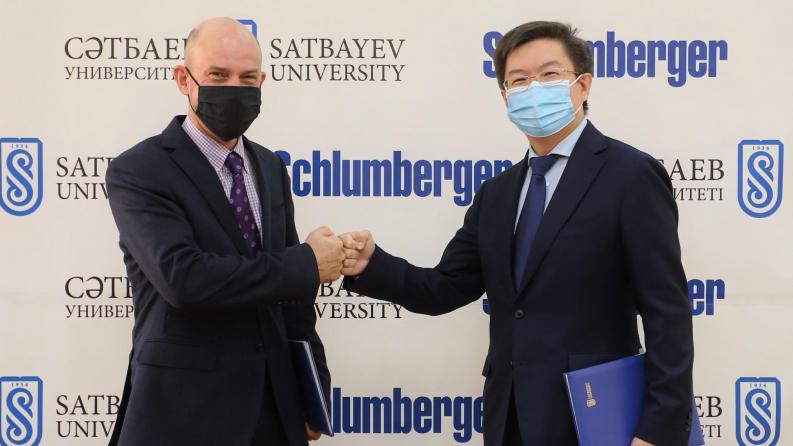 In early November, Almaty hosted a meeting of Satbayev University and Schlumberger Company administration in the Republic of Kazakhstan. During the meeting, Rector of Satbayev University Iskander Beyssembetov and regional Director of Schlumberger in Kazakhstan Rob Fox signed an agreement. It was the one of intentions to expand cooperation in the research and development sphere (R & D) for oil-gas and mining companies, emphasizing the importance of cooperation between the leading technical University of Kazakhstan and a leading international oilfield services company.
Currently, Satbayev University and Schlumberger Company in the Republic of Kazakhstan successfully cooperate in the joint implementation of research projects in the field of coal methane exploration and production in Karaganda coal basin. As part of this project, Schlumberger Company granted University the right to use specialized software like Petrel*, ECLIPSE*, Techlog*, which simplifies the process of designing and optimizing the oil-gas field's development for specialists in geology and mining.
Collaboration between the two leading companies will allow them to implement innovative ideas in oil-gas geology and geophysics and bring R&D to a new level.
Schlumberger, the world's leading supplier of technology to the oil-gas industry, operates in more than 120 countries and had approximately 82,000 employees at the end of the 2nd quarter in 2020. Schlumberger Lodgelco Inc. subsidiary has been operating in Kazakhstan since 1992; it provides a wide range of services and products for exploration, drilling, production, processing, well stimulation and digital technologies.
The asterisk (*) is used to indicate the Schlumberger sign.