Satbayev University jointly with NAC Kazatomprom handed diplomas to graduates of the employer-sponsored Master Program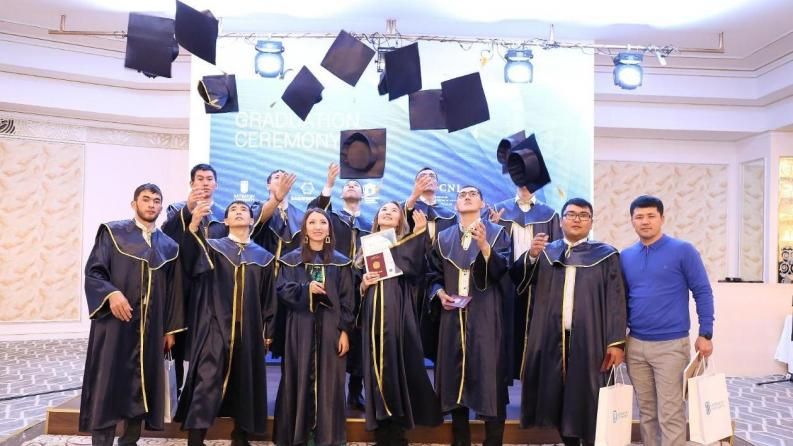 On December 13, 2019, a graduation ceremony was held for 36 masters of the specialized employer-sponsored magistracy of the International Scientific and Educational Center of the Nuclear Industry. Graduates received diplomas in such specialties as "Information Systems", "Power Engineering", "Technological Machines and Equipment" and "Geology and Exploration of Mineral Deposits" with specialization in exploration of uranium deposits. In addition to diplomas, the most active undergraduates were awarded diplomas in various nominations.
Rector of Satbayev University Iskander Beisembetov, Head of the Rector's Office Berik Mukhtybaev and Chief Director for Transformation and Information Technologies Beksultan Bekmuratov spoke at the presentation. Representatives of Satbayev University and the Council of Honorary Professors "Council of Elders" congratulated the graduates on finishing the Master school . In response the undergraduate of the specialty "Power" Arseny Molchanov, who is currently studying at the University of Anhalt, Germany under the Erasmus program made a speech.
The master's program for nuclear industry professionals is organized within the framework of the General Agreement concluded between NAC Kazatomprom JSC and Satbayev University. The specific feature of the training program at the center is the Kazatomprom company needs- orientation in the field of the training highly qualified specialists. The training is carried out with the participation of company veterans who have very long manufacturing experience and will be able to pass it on to youth.
"The International Scientific and Educational Center of the Nuclear Industry" is the first and only educational center in Kazakhstan where highly qualified specialists are trained for the nuclear industry both for our country and abroads. In addition to the training of the Master students, the center conducts research and development work, develops scientific and educational and methodological manuals, creates multimedia educational materials. The official opening ceremony of the center took place on September 4, 2017. In 2019, "International scientific educational center for nuclear industry" presents diplomas to the second class of the graduates.