Satbayev University specialists held a workshop for the North Caspian Operating Company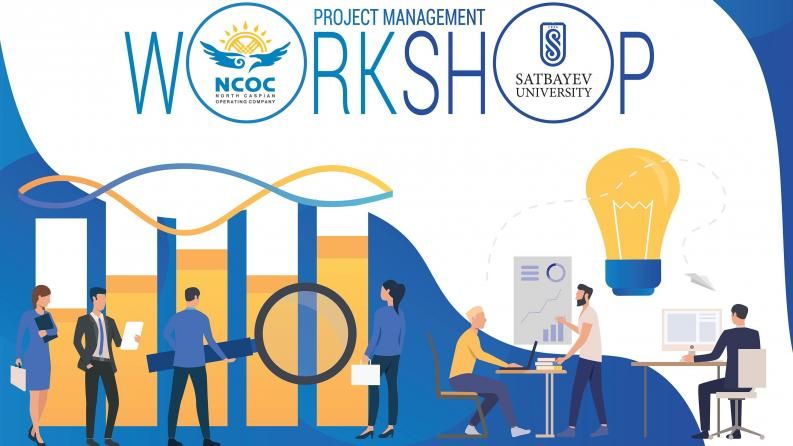 On October 4, 2019, Satbayev University specialists held a workshop on "Project-oriented management capabilities for company development" at the training center of NCOC N.V. office in Atyrau. More than 50 employees of NCOC N.V. participated in the workshop.
The event was the presentation of training courses in project management: basic module of the course "Project management", advanced module - "Project, Program and Portfolio Management» and "Preparation for Certification". The workshop included business games, blitz games, and different cases analysis.
The workshop was conducted as an interactive game based on the movie "Ocean's Eleven". The participants worked in teams, practicing tools and methods of project management. The winning team was awarded with memorable gifts.
Professional project Manager, business coach - Evgeny Pikulev, expert consultant in the field of project management development and implementation - Alexander Li and business coach of MS Project Professional, head of IT projects - Radimir Rayupov, conducted the workshop.
This is not the first event held by Satbayev University specialists for "NCOC N. V.". In March, a series of training sessions on "Project management" were organized for the company's employees, as a result representatives of "NCOC N. V." asked Satbayev University to hold a workshop for more employees.
Satbayev University is an accredited education provider from the world's leading Project Management Institute (R.E.P. PMI, Pennsylvania, USA). All university programs on project management are related to international PMI standard, so after completing the courses, it is possible to obtain an official certificate with assignment of PDU (Professional Development Units).
The University has all the qualifications for holding such events and conducts them at a consistently high level.