Satbayev University welcomes the new university rector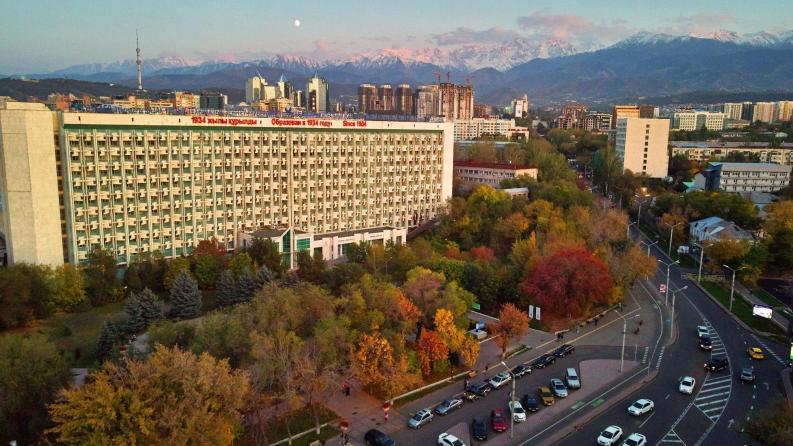 The new rector was presented to the staff of Satbayev University on April 20. Meiram Mukhametrakhimovich Begentayev was appointed rector of the oldest technical university of the country by a republican competitive commission chaired by Deputy Prime Minister Yeraly Tugzhanov.
The former Acting Rector of Satbayev University, Amandyk Tuleshov, Chairman of the Board, Bakhyt Zhautikov, Acting Vice-Rector for Science and Innovation, Askar Syzdykov, Rector's Advisor Ulykpan Sydykov, and Directors of university institutes and departments attended the meeting with a new rector.
The Deputy Minister of Education of the Republic of Kazakhstan Mukhtar Mirasovich Daulenov, who was present remotely, introduced the new rector in his congratulatory speech,
— I would like to thank Amandyk Kuatovich for his significant contribution to the development of the university, despite a short period, and to wish Meiram Mukhametrakhimovich success in his new position, - said the Vice-Minister in a congratulatory speech.
— It is a great honor and responsibility to be a rector of Satbayev University. I am grateful for the high trust shown to me, and I look forward to the friendly support of my colleagues in carrying out the tasks set- said Meiram Begentayev in his reply.
Meiram Begentayev is a Kazakhstani statesman and politician, a deputy of the Mazhilis of the Parliament of the Republic of Kazakhstan of the 5th convocation. Since 2001, he has held several leading positions in the system of higher education and was a deputy of the Pavlodar city Maslikhat of the 3rd-4th convocations. He has the Gratitude of the Head of State N.A. Nazarbayev (2005), the Badge «Honorary Worker of Education of the Republic of Kazakhstan», honorary diplomas and anniversary medals. He is a Laureate of the State Youth Award «Daryn» of the Government of the Republic of Kazakhstan (2008). Over the past two years, he held the position of rector of S. Toraighyrov Pavlodar State University.