Students and researchers at Satbayev University gained access to the fiber-optic communication system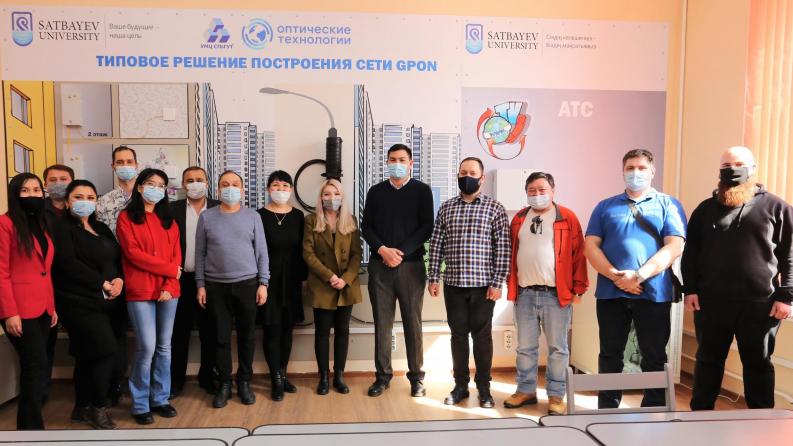 On March 19, 2021, Satbayev University opened laboratory classes on «Fiber-optic telecommunication systems» and «Multichannel fiber-optic telecommunication systems» provided by the Educational- Methodological Center of the Bonch-Bruevich Saint Petersburg State University of Telecommunications. The goal was to develop the laboratory base. It was
The new laboratory teaching equipment is for students studying on new educational programs «Electronics and Electrical Engineering» and «Telecommunications» in the department «Electronics, Telecommunications and Space Technologies» of the A. Burkitbayev Institute of Industrial Automation and Digitization.
«We hope that our cooperation will enhance the competitiveness of the university and make our students a demanded specialists. We hope that due to this partnership will provide unique knowledge and open new opportunities», - representatives of Satbayev University commented.
Modern laboratory training complex «Fiber Optic telecommunication systems», purchased by the Educational-Methodological Center of the Bonch-Bruevich Saint Petersburg State University of Telecommunications will allow:
to acquire practical skills in the installation of fiber-optic systems based on the Asterisk telephone server and the organization of communication between ATC IP subscribers;
to introduce innovations in the course of «Physics and Optical Communication Technology»;
to study fiber optic transmission systems;
to conduct investigations for master and doctoral research projects.
The engineers presented the new features and were awarded certificates on full-time learning technology for the given laboratory equipment in the framework of the center discovery at the Bonch-Bruevich Saint Petersburg State University of Telecommunications.
The Bonch-Bruevich Saint Petersburg State University of Telecommunications is a basic industrial university with a 100-year history and recognized leader in the Russian Federation by having Russian higher school in the field of training specialists for the communications State University of Telecommunications is one of the leading Russian developers of teaching laboratory equipment and telecommunications sector. Training and methodical center at the Bonch-Bruevich St Petersburg.