The contest for monthly student stipends of 27,000 tenge has been announced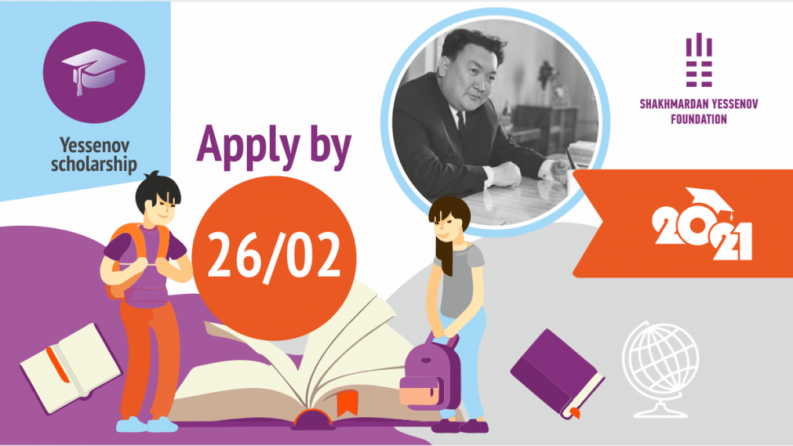 Shakhmardan Yessenov Science and Education Foundation is announcing the contest for the provision of 17 monthly student stipends in 27,000 tenge.
Participants of the program: students, citizens of Kazakhstan older than 18, studying in the Kazakhstani universities in the 2-3rd year of Bachelor's or 1st year of Master's degree and 1st year of internship in natural science, technical, medical, and IT specialties.
To participate in the contest for the scholarship named after Sh. Yessenov the candidate must:
1. fill in an online application on the Foundation's website yessenovfoundation.org
2. Attach the following to the application:
Obligatory documents:
1. ID card scan;
2. Address on this topic: "What have I done and will do for the science of Kazakhstan? What is important to you and why?" (the request can only be submitted in a written form);
3. Transcript of the student (average GPA score is not lower than 3.0), applications with a score below 3.0 are not considered;
4. A copy of higher education diploma for Master's students (bachelor, specialty).
Additional documents:
5. Scientific certificates/diplomas - no more than 2 certificates*;
6. Certificates for social activity and volunteering - no more than 3 certificates*;
7. Publication – no more than 2 publications*;
* The Fund considers a limited number of certificates. The candidate must independently select the certificates that best represent their achievements.
Applications are accepted on Foundation's website from January 25 to February 26, 2021.
Applications registration will be finished on February 26, 2021, at 15: 00 Nur-Sultan time (GMT+6). Applications received after the deadline are not considered.
Regulations on Contest for Stipend of Shakhmardan Yessenov Science and Education Foundation.