The creative exhibition of the lector Satbayev University Turabaeva Kulyash – "Dreams of our childhood"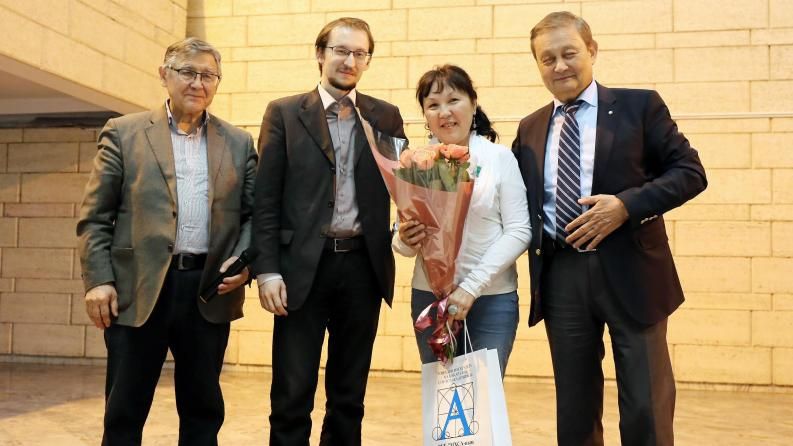 On December 19, 2019, the Central State Museum of the Republic of Kazakhstan opened the creative exhibition of the teacher of the Department of Architecture at Satbayev University "Dreams of Our Childhood" – by artists Kulyash and Zhanna Turebayeva.
Turebayeva Kulyash Izbastovna - a recognized graphic artist, illustrator, favorite teacher of drawing and painting by students at Satbayev University.
Kulyash Turebaeva was born in the city of Orsk (Orenburg Region, Russia). Since early childhood, lives in Almaty. She graduated from the Faculty of Art and Graphic at KazPI named after Abay, the faculty of graphics at Stroganov Moscow State Academy of Arts and Industry. She studied with such masters as V.I. Antoshchenko-Olenev.
The exhibition presents works made in different styles and genres. A special place in Kulyash's work is occupied by a series of ethnographic paintings - "Grandma told", "Ulken azhe", "Nauryz". Her works are included in the Jubilee Palette catalog (Almaty, 2019), the catalog of competitive works dedicated to the 20th anniversary of the Independence of the Republic of Kazakhstan, the Union of Artists of the Republic of Kazakhstan. Kulyash's creativity is diverse: she carries out orders for painting walls and creating stained glass, is engaged in the development and production of national souvenirs, and has an author's certificate. Kulyash also holds sketching workshops (markers, watercolors, pastels).
In addition, the exhibition will introduce the works of the daughter of Tyurebaeva Kulyash - Zhanna. From early childhood, she was surrounded by an atmosphere of creativity. The ability to see the beautiful and delicate artistic taste of Zhanna Turebayeva was inherited from her mother - Kulyash. On such an important occasion in the creative biography of Turebaeva Kulyash from the Kazakhstan branch of the International Academy of Architecture, the chairman of the Academy and the director of the Institute of Architecture and Construction named after TK Basenova at Satbayev University Kuspangaliev Bolat solemnly awarded Turebaeva Kulyash the Toleu Basenov Medal for her contribution to the development of architectural education in the Republic of Kazakhstan.
The exhibition runs until January 8, 2020.
Contact phones: TsGM RK: 264-46-50