English language holiday at Satbayev University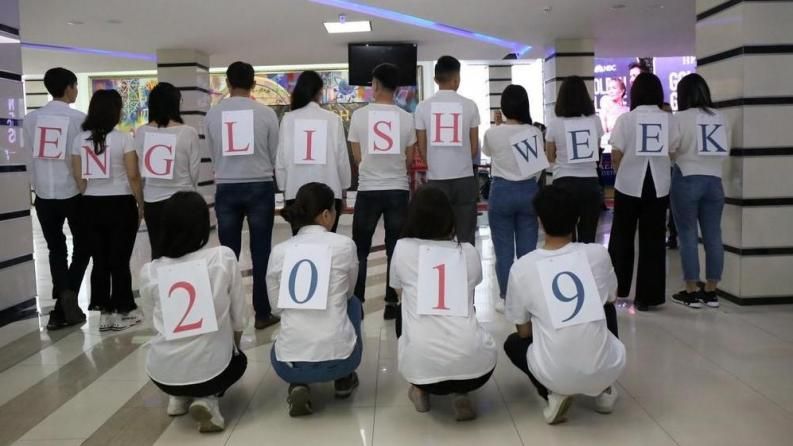 From 15 to 19 April, as part of celebrating K.I. Satbayev's 120th jubilee as well as the 85th anniversary of Satbayev University, the English Language Department hosted English Week to increase the students' motivation and interest in learning English. All staff and all students of the university enjoyed the opportunities throughout this week to listen to more English and use it more often.
The English Language Department under Akzhan Mashani Institute of General Education annually holds an educational "English Week" event at Satbayev University. Every year "English week" includes all of our students and faculty alike, hosting social events, performances, and competitions.
The opening ceremony channeled Hollywood glamour and scope to kick off a week full of educational activities. On the red carpet, students and teachers, together with ELD Head Anar Turlybekova welcomed distinguished guests Rinat Iskakov, vice-rector of Academic Affairs; D. K. Nauryzbayeva, vice-rector of scientific and research affairs; Aigul Sarenova, director of Institute of General Education; R. E. Beyssenov, Head of Engineering Physics; and Baknur Ziyabekov, head of Alpha Academy.
Based on tradition, the department has continually been holding a charity event tagged "Red Nose Day" for two years now; the so-called "Sweet fair" under the slogan "Do something funny for money". Various pastries prepared by ELD teaching staff were carried out. Consequently, the sum of 180 thousand tenge derived and channelled towards the treatment of a 2-year-old child Zhanahmet Batyrkhan who is suffering from central nervous system and cerebral palsy disease.
Every evening in the Oil and Gas conference hall, our department hosted a competition where 260 students of all levels of English participated, demonstrating both acting skills and knowledge of the English language. The performances used classical masterpieces of English literature, musical shows, popular film, and various other texts. Department assigned awards for best costume and best competence in English Language.
The Elementary level students participated in our Reading Fair Project. This project aimed to expand students' interest in British and American literature. Students showed their creative abilities in designing colorful posters and presentations of authors including Jack London, F. Scott Fitzgerald, Ray Bradbury, William Shakespeare, Charlotte Bronte, and Lewis Carroll. Each group of students presented their project in English, summarizing the work they studied.
English Language department hosted "Satbayev talks" in the conference hall, an event where teachers of our higher educational institution who graduated from foreign universities and students who had internships abroad could share their experiences, including discussion of student life in other countries, opportunities, and their own general observations.
Special guest Nailya Uzurova Shaukatovna, from Inter Press, gave a presentation on the topic: "Overview on non-commercial foreign educational programs for Kazakhstani students."
English Week also featured game contests in which it was necessary to show ingenuity, critical thinking, promptness, and knowledge of the English language. Competitions included treasure hunting and "Mafia."
Eighteen Business English students participated in a "Mafia" game.
The closing ceremony for English week included a karaoke contest entitled "Satbayev stars," where students and teachers alike competed to give the best English singing performance. We concluded the event with a summary of all of English language week's activities as well as our presentation of awards and certificates.
The English Language Department under IGE would like to thank all the participants for their active work in the event. We give special thanks to Sulpak, InterPress International House, Macmillan, Cambridge Press, Aquamira, Time Restaurant and bar, and Ear and Bear Karaoke Club for providing prizes and gifts, helping to sponsor our event.