Satbayev University agreed to cooperate with oil and gas industry leader Baker Hughes, GE Company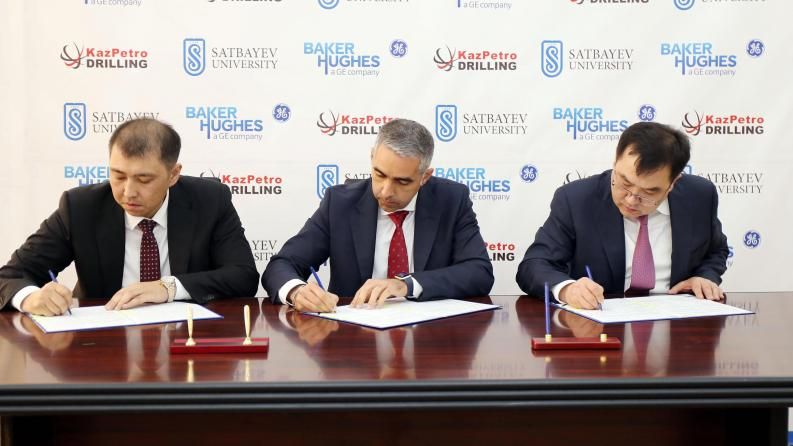 Cooperation Memorandum was signed on April 25, 2019 between the alma mater of RK technical elite, Satbayev University and Baker Hughes, GE Company (BHGE), the first and the only full cycle company in the world that provides oil and gas industry with all advanced equipment, service and digital solutions and the leader in oilfield services market of Kazakhstan - Kazpetrodrilling Holding (KPD). The purpose of this agreement is considering possibilities to create 'Drilling Fluids and Cementing Fluids Laboratory' at the university. The project is aimed at enhancing the role of education and science in oil and gas industry development in Kazakhstan. The parties also intend to cooperate in the field of training, retraining and staff development.
"The university will provide favorable conditions for participation of BHGE and KPD's representatives in conferences, seminars, exhibitions and other events. " Drilling fluids and cementing fluids laboratory will enhance our graduates' professional qualities," said Bakhytzhan Barmagambetov, vice-rector for corporate development during memorandum signing ceremony.
BHGE and KPD, for their part, will consider opportunities for selecting students for employment based on results of Bachelor, Magistracy and Doctoral programs of the university, in case of necessity in increasing the staff of companies.
"We are pleased to expand cooperation with Satbayev University and opportunity together with KazPetroDrilling to contribute to new generation engineers and technical specialists' formation in Kazakhstan. Thanks to the agreements reached today, university students will have access to modern technologies and will be able to upgrade their skills in the field of drilling fluids and cementing fluids," said Tommy Kassem, vice president for BHGE oilfield services in the region of Russia Caspian.
To achieve their goals, the parties will create a working group.
KazPetroDrilling
KazPetroDrilling is the largest independent drilling company in the Republic of Kazakhstan, which has been providing oilfield services since 1965.
The holding specializes in providing a wide range of services in the field of drilling, well repair and well shutdown, hydraulic fracturing and well cementing. The holding includes several drilling and service companies in oil regions of Kazakhstan.