Satbayev University was awarded the Gold medal named after V. I. Blinnikov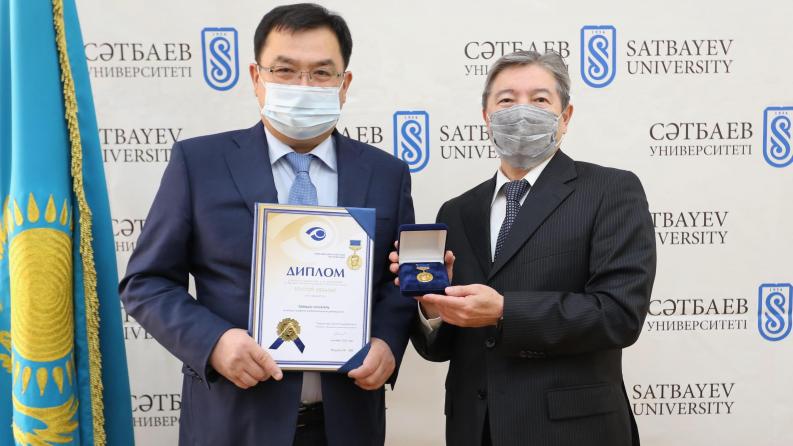 On September 30, 2020, on the festive Day of Justice officials, Satbayev University representatives were presented with the V. I. Blinnikov Gold medal "For contribution to inventive and patent work".
The award ceremony on behalf of the Eurasian Patent Organization was held at the Ministry of Justice of the RK, in Almaty, with the active participation of KAZPATENT National Institute of Intellectual Property, which nominated Satbayev University as a candidate for the given medal.
Head of Staff of the Rector Berik Khamitovich Mukhtybaev and Vice-Rector for Corporate Development Bakhytzhan Ziuadinovich Barmagambetov were awarded the V. I. Blinnikov Gold medal and a diploma in recognition of the successful professional and inventive activities of the University scientists.
The V. I. Blinnikov Gold medal is an award granted by the Eurasian Patent Organization for a significant contribution to the creation, establishment and development of inventive activity and patent business in the countries participating in the Eurasian Patent Convention. The award is dedicated to the memory of the Eurasian Patent Agency's first President Viktor Ivanovich Blinnikov, a prominent figure in the Eurasian region in the field of intellectual property, founder of the EAPO.