Educational Programme (EP) "Chemical and Biochemical Engineering" - an open door to a world of new opportunities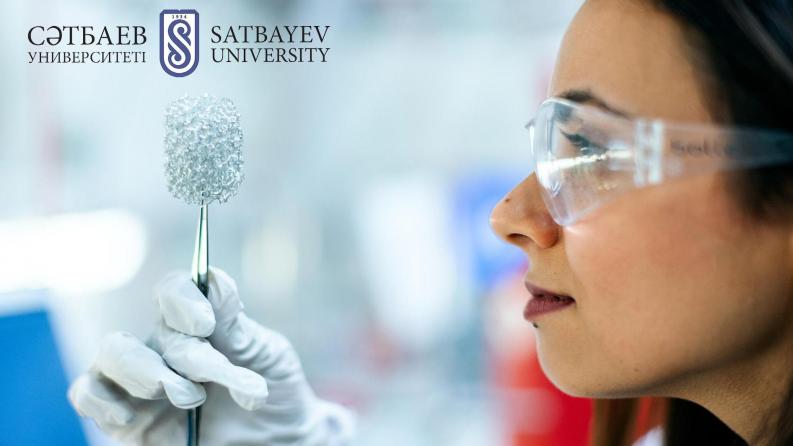 If you liked chemistry or biology, geography and ecology at school, if you dream of joining the creation of new molecules, giving biologically active properties to new compounds and substances, and assessing the environmental and innovative nature of new chemical and biological technologies or processes, we invite you to join the Institute of Chemical and Biological Technologies' unique "Chemical and Biochemical Engineering" programme. This is one of Satbayev University's most promising educational programmes, which guarantees you a highly sought-after profession and promising career opportunities in chemical engineering and processes, biotechnology and environmental science.
Modern chemical engineering traces its roots back to industrial chemistry in the 20th century: chemical engineering was at the heart of major technological innovations in fertilizers and pesticides in the agricultural sector, as well as the doped semiconductors that power the entire electronics industry; all types of polymers and plastics, medicines and vaccines.
The opportunities for chemical engineering applications are even greater in the 21st century. There are plenty of attractive jobs in the labour market for graduates of the Chemical and Biochemical Engineering programme. For instance, chemists synthesise new drugs and medicines in close collaboration with biotechnologists and environmental scientists and, once their effectiveness has been proven, chemical engineers work to expand their production.
Graduates of this educational programme work in a wide variety of industrial and scientific fields, developing new energy vectors, finding new ways to recycle waste and clean water, using environmentally friendly biomaterials in production, developing new materials and offering more environmentally friendly production technologies.
Chemical and biological technologies, biotechnological engineering and ecology are among the fastest growing fields in the world today. Chemistry and biotechnology are the backbone of large enterprises, which form a significant part of the industrial complex in many countries around the world.
A graduate of the new educational programme "Chemical and Biochemical Engineering" obtains the academic degree "Bachelor of Engineering and Technology". The programme includes introductory, industrial and pre-graduation internships in the fields of chemical engineering and chemical processes, biotechnology and ecology.
Intensive foreign language study is provided allowing you to complete the programme not only in Kazakh, Russian, but also in English.
Institute of Chemical and Biological Technologies
Registration for educational programmes
For all questions, please contact:
grad@satbayev.university;
a.seitkhan@satbayev.university;
g.aitkaliyeva@satbayev.university;
z.tuiebakhova@satbayev.university;
r.iskakov@satbayev.university.
The trajectory of Educational Program
«Chemical and Biochemical Engineering»
By choosing our program, you will receive basic engineering training in individual trajectory related to chemical engineering of organic and inorganic substances, biotechnology, ecology, enterprise design, and environmental risk assessment of chemical and biological industries. You can choose one of the following trajectories to specialize in the third year:
«Chemical Technology of Organic substances»
Work in the field of modern technologies of processing hydrocarbon, mineral and technogenic raw materials into final products, reagents and new polymeric materials. Graduates of this specialty will be able to work successfully in various national, foreign enterprises of oil, gas and petrochemical industry, in research institutes and laboratories, engineering and educational organisations (university, institute, college).
| | |
| --- | --- |
| The group of educational programmes | UNT subjects |
| В060 Chemical engineering and processes | Chemistry - Physics |
«Chemical Technology of Inorganic substances»
Work in the field of nuclear chemical technology, technology of complex use of natural raw materials; production of mineral acids, salts, soda, alkalis, gas and waste water treatment; processing of waste and semi-products of chemical and metallurgical production; production of alumina, chrome and its compounds; production of glass, synthetic detergents, mineral fertilisers, etc. Graduates can successfully work as process engineers, project engineers, research assistants both in enterprises and in research and educational organisations.
| | |
| --- | --- |
| The group of educational programmes | UNT subjects |
| В060 Chemical engineering and processes | Chemistry - Physics |
«Biotechnology»
Work in the field of development and implementation in production of environmentally friendly biotechnologies, alternative renewable bioenergy, production of biocontaminants, technical biopolymers and organic solvents. Places of possible employment include practically all industries, research institutes, secondary and higher education institutions, environmental, sanitary and epidemiological, and customs services.
| | |
| --- | --- |
| The group of educational programmes | UNT subjects |
| В050 Biological and related sciences | Biology - Chemistry |
«Ecology»
Work in the field of environmental protection, environmental forecasting and monitoring, assessment of the impact of environmental factors on the environment. These specialists will be in demand at industrial enterprises as environmental engineers, leading specialists in domestic and international environmental protection organisations, industrial areas of mining, mineral and organic raw material processing, in goods production, design environmental companies, in manufacturing laboratories, research institutes and associations, to act as experts in environmental projects. Environmental scientists work successfully with chemical engineers and biotechnologists to tackle major national projects.
| | |
| --- | --- |
| The group of educational programmes | UNT subjects |
| В051 Environment | Biology - Geography |